President for 2017 - 2018
President: Lion Mohamed Roshan

It is with a sense of gratefulness and humility that i take this post as Lion President for the year 2017*18, and thank members for giving me this opportunity so shortly after my last sojourn only two years ago. This year is particularly special in that it marks the centenary of Lions Club International: an awesome achievement of voluntary community services worldwide.
What a great year we have just had! Two years ago we raised what was probably the highest amount of funds for many years and awareness of our club in he local community. Last year we not only increased on the level of funds but also raised the profile of the club both here and abroad. I would like to thank the outgoing president Lion Sunil Lakhani for hos dedication and hard work.
While i appreciate that all our services are performed with great humility and dedication, my theme for the year will be "strengthening the pride" . It will build on the great work over the few years and we hope not only to support work which will transform lives, but also to nurture our members, both old and new so that the club continues to provide a fraternal ethos for all who join. I am also looking forward to with other clubs both district and nationally during the centenary year and hope we can showcase some of the great service our members contribute year on year.
I have a few charitable causes i would like to support. These include Healing Little Hearts, a well known local charity which helps children with serious congenital heart disease around the world. It is an inspiring charity which has saved the lives of many young children internationally. I would also like to raise some funds for Children's Cancer Unit at the Leicester Royal Infirmary which does great work in treating children with conditions ranging from leukemia and neroblastomas.
I am very keen in supporting activities such as diabetes screening clinic, coach trips for the handicapped. Diwali dinners for the elderly and other services for our local community. I sincerely believe that in this way, we will increase awareness of our club and provide more services, which i know is at the heart of very lion member.
Finally i am looking forward to working with board members, committee chairs and the club members to fulfill my duty as the Lion President of this prestigious club, and at the same time achieve my ambition of serving the community for those in need, and contributing to research in medicine, this allowing for a longer and happier life for future generations.
Yours in Lionism,
Lion President Mohamed Roshan

"Strengthening the pride"
Board Members 2017 - 2018
Imd Past President: Lion Sunil Lakhani
President: Lion Mohamed Roshan

1st Vice President: Lion Jayesh Ghaghda

2nd Vice President: Lion Anthony Phiri

3rd Vice President: Lion Sital Kotechas

Secretary: Lion Jayesh Ghaghda

Treasurer: Lion Hasmukh Tanna

Minute Secretary: Lion Sital Kotecha

One Year Directors: Lion Harnish Hadani

Lion Dilip Shah

Two Year Directors: Lion Gulab Mistry

Lion Sushil Dave

Lion Tamer: Lion Naresh Popat

Lion Tail Twister: Lion Madat Ahmed

Membership: Lion Prakash Hindocha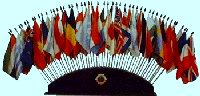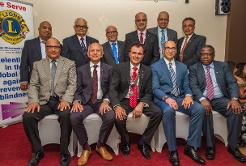 The 2017-178 board of directors.
Standing from left to right:
Lion Sushil Dave, Lion Gulab Mistry, Lion Dilip Shah, Lion Siatl Kotecha, Lion Harnish Hadani and Lion Prakash Hindocha
Sitting from left to right:
Lion Hasmukh Tanna,Lion Sunil Lakhani, Lion President Mohamed Roshan, Lion Jayesh Ghaghda and Lion Anthony Phiri
Meetings 2017 - 2018:
Business meetings are held on the 2nd Wednesday of each month at 8 pm at: -
Ramada Hotel
299 Leicester Road
Wigston
Leicester
LE18 1JW