Welcome:
Welcome to Leicester Charnwood Lions Club.
Aim:
Being part of the world's largest service organiastion our principal aim is to serve the community we live in and support worthy causes locally, nationally and internationally.
Our motto for 2017-2018 is
"Strengthening the pride".
Although the fundamentals of Lions is to serve, the club also has a fund raising vehicle and this year our efforts will concentrate on supporting Primary Care Diabetes prevention, the community screening of cardiac failure and other local charities. On an international basis, we will continue to support the Lions International campaign of Sight Conservation as we have successfully done in the previous years.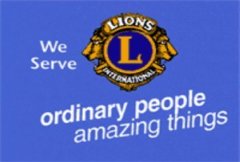 History:
Leicester Charnwood Lions Club was formed in 1974 and is part of Lions Club International, which has 1.3 million members across the globe in over 202 countries.
Present:
The President for 2017-2018 is Lion Mohamed Roshan who is supported by 41 members of the club.